Helmet Angel is now accepting bespoke design orders for quantities of over 50 units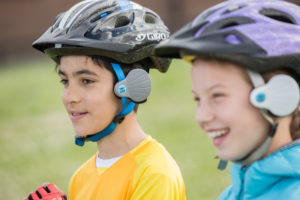 Helmet Angel is thrilled to be able to produce bespoke Helmet Angel shells and decals for bulk orders.
For orders of 50 units or over, Helmet Angel shells can now be produced in any colour that a customer wishes. The company can also produce bespoke decal designs too, bearing any design that the customer wishes, such as company logos, school shields or club symbols.
"This service is ideal for those who would like to order a particular shell colour or decal style for a larger group – for example, pupils at a school, members of a cycling club or employees at a place of work," says Helmet Angel inventor David Crampton. "It's a great way of uniting a group and helping to promote a specific organisation's endorsement of cycling safety to a larger group of people."
To find out more and to enquire about ordering a specific design, please get in touch.
Testimonial
"We used the Helmet Angel shells on the three-day 137 mile Coast-to-Coast cycle route, and they were absolutely excellent.
"The shells and their padding are so lightweight and comfortable, you very quickly forget they are there, and they are also very stable – once we'd set them in position, they didn't move at all.
"The use of the product was also really good. We found that the shells were very effective in mitigating wind noise and helping us to detect where traffic was coming from much more easily than if we hadn't been wearing them. Even cycling at 30-40mph downhill, we could all hear perfectly.
"The shells provided excellent protection from the elements, which was particularly useful in the driving rain and when we went through a hailstorm up on the moors above Allenheads. We were very grateful for the shells in protecting us from the elements and high winds, and they kept us much warmer when the air turned cold, too.
I am really pleased with the shells. They were so beneficial for hearing traffic and communicating with the other riders, I would recommend them to everyone. I will definitely be keeping them on my helmet from now on."
– Rob Gray, Team Leader, Coast-to-Coast Ride