Have they been properly tested?
The Helmet Angel shells have been thoroughly tested by a Torso Simulator (HATS) with an anechoic chamber, pre professional foam glider and acoustic foam diffuser additions. Researchers found that the shells made a massive difference in enabling riders to hear sounds behind them: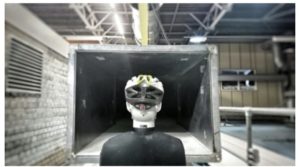 "Sensitivity of the HATS system was compared from front to rear. The bare head was found to be most sensitive to sound sources in front of the head.  However, with the Helmet Angel product in place, the reverse was the case. The Helmet Angel product therefore changes the relative sensitivity of hearing front to rear which makes sound sources to the rear easier to detect."
Many tests have also been conducted by professional cyclists out in the field. An example is the Coast-to-Coast Cycle Challenge: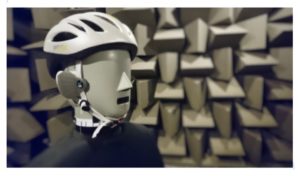 "The Helmet Angel shells were absolutely great. We experienced a lot of high winds and driving rain during the ride, especially when cycling over higher ground, and the Helmet Angel shells really helped to protect our ears and aid our hearing. This was beneficial not only for hearing traffic, but also for communicating with the other riders."
– Rob Gray, Team Leader
Testimonial
"We used the Helmet Angel shells on the three-day 137 mile Coast-to-Coast cycle route, and they were absolutely excellent.
"The shells and their padding are so lightweight and comfortable, you very quickly forget they are there, and they are also very stable – once we'd set them in position, they didn't move at all.
"The use of the product was also really good. We found that the shells were very effective in mitigating wind noise and helping us to detect where traffic was coming from much more easily than if we hadn't been wearing them. Even cycling at 30-40mph downhill, we could all hear perfectly.
"The shells provided excellent protection from the elements, which was particularly useful in the driving rain and when we went through a hailstorm up on the moors above Allenheads. We were very grateful for the shells in protecting us from the elements and high winds, and they kept us much warmer when the air turned cold, too.
I am really pleased with the shells. They were so beneficial for hearing traffic and communicating with the other riders, I would recommend them to everyone. I will definitely be keeping them on my helmet from now on."
– Rob Gray, Team Leader, Coast-to-Coast Ride