Helmet Angel Shells A Major Benefit to Ryan's Ride Around Britain
Helmet Angel has gained a life-long fan in Ryan Anderton, of #RyanRidesAroundBritain. We supplied him with our famous hearing protection shells to wear as he undertook the impressive 4,082 mile cycle around the UK's coastline, which transformed his riding experience.
After suffering from low moods, 38-year-old Ryan began long-distance cycling in 2016, when he used to ride 20 miles a day to get to work. He then participated in a mental health awareness ride for Andy Man's Club and a British Red Cross fundraiser, and in 2017 set himself the challenge of cycling from Land's End to John O'Groats.
It was in 2018, after suffering from another period of depression, that Ryan decided to change his life. Setting up Recycle Yourself, Ryan rode 50 miles a day for 50 days and finally decided to set his biggest challenge yet: to ride around the UK's coastline in honour of mental health organisation Mind.
Designed to enable cyclists to hear what's going on around them, our wind-deflecting shells were a key part of Ryan's cycling kit throughout his journey. Their unique design allowed Ryan to stay safe, by enabling him to hear the sounds around him more clearly. They also helped to keep his ears warm in the cold, Autumn weather.
Discussing how he came to use the Helmet Angel shells, Ryan said:
"I found out about Helmet Angel after attending the Cycle Expo Yorkshire to raise awareness of my ride around the UK. After some pictures were posted on social media, I was contacted by Helmet Angel who asked me if I would like a pair of shells for my journey.
"Having already cycled along parts of the coast, I knew how bad the winds could be and so I thought I'd give them a try.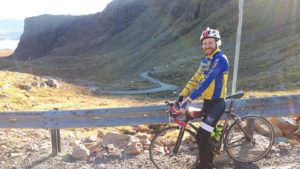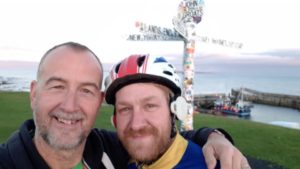 Setting off from Blackpool in October, Ryan started his journey that was to last 42 days and raised over £7,000 for Mind. Within the first few minutes, Ryan said he could feel the benefits of the product:
"Immediately, the sound of the coastal winds were reduced. As I approached Liverpool and entered my first populated area with a lot of traffic, the shells provided traffic safety benefits that I've never experienced before. I was able to hear the noise of the traffic which gave me much more awareness of approaching vehicles."
Ryan continued to wear his Helmet Angel shells throughout his journey, and mentions Torcross Point in Devon as a place where they helped the most:
"This area is very susceptible to strong winds and heavy rainfall, so I was naturally a little wary going into it. Fortunately, my Helmet Angels were my saving grace and massively cut down the noise caused by the excessive winds as well as keeping my ears warm when it was bitterly cold."
Following his ride around the UK, Ryan thanks Helmet Angel and says that the shells will be a permanent part of every journey he makes from now on. They have become an essential cycling accessory, as integral as his Hi Vis clothing and lights, and Ryan believes that every cyclist should be wearing them.
Next on Ryan's agenda is a journey from Nordkapp in Norway to Tarifa in Gibraltar, on behalf of the Lee Fancourt Mental Health Fund. Throughout this whole journey, Ryan will be wearing his Helmet Angel shells to stay safe. Check out his website to keep updated: www.recycleyourselfcampaign.co.uk
Donations to the Lee Fancourt Mental Health Fund are being accepted via www.GoFundMe.com/lee-fancourt-mental-health-fund

Helmet Angel Shells A Major Benefit to Ryan's Ride Around Britain
Helmet Angel is thrilled to be able to produce bespoke Helmet Angel shells and decals for bulk orders.
For orders of 50 units or over, Helmet Angel shells can now be produced in any colour that a customer wishes. The company can also produce bespoke decal designs too, bearing any design that the customer wishes, such as company logos, school shields or club symbols.
"This service is ideal for those who would like to order a particular shell colour or decal style for a larger group – for example, pupils at a school, members of a cycling club or employees at a place of work," says Helmet Angel inventor David Crampton. "It's a great way of uniting a group and helping to promote a specific organisation's endorsement of cycling safety to a larger group of people."
To find out more and to enquire about ordering a specific design, please get in touch.
Helmet Angel is now accepting bespoke design orders for quantities of over 50 units
Helmet Angel creator David Crampton invited a team of cycling enthusiasts from leading plastic injection moulding and tooling specialist, Omega Plastics, to trial the Helmet Angel ear defenders when they took on the renowned Coast to Coast cycling challenge last weekend.
The Coast to Coast challenge saw a team of seven employees from Omega Plastics cycle the 137 miles from Whitehaven to Tynemouth. The three-day event was the perfect endurance test of the Helmet Angel's usability and effectiveness.
John Berry, logistics officer at Omega Plastics, said:
"When David from Hanaido heard about our plans to take part in the Coast to Coast, he kindly offered us the chance to try out his Helmet Angel product.
"This is the second time that a team from Omega Plastics has taken part in the Coast to Coast challenge, the first time in 2015 and then again, this year. Going forward, we hope to try and make it an annual event.
David first heard about Omega Plastics after his flooring business supplied some carpets to the company's chairman, Chris Thompson.
"I've had ideas for products before but this is the first one that I have actually actioned," David said.
"Omega Plastics has helped me every step of the way, from the very early moulding stages right through to the assembly and dispatch process.
"The team has provided very good, very patient support and has been invaluable to me when detailing the process and possibilities for the product.
"Looking to the future, I am keen to develop the Hanaido brand and the Helmet Angel product further to try to address safety issues within other activities that require participants to wear a helmet, such as skateboarding, scootering or equestrian sports."
Rob Gray, operations manager at Omega Plastics, added:
"It's not very often that we have the opportunity to test products that we have moulded in their intended environment, so it was incredibly kind of David to allow us to test the Helmet Angel for ourselves during the Coast to Coast
"The Helmet Angel was absolutely great. We experienced a lot of high winds and driving rain during the ride, especially when cycling over higher ground, and the Helmet Angel really helped to protect our ears and aid our hearing. This was beneficial not only for hearing traffic, but also for communicating with the other riders.
"We were delighted to support David at Hanaido with the development of his fantastic product and we look forward to helping him with other projects in the future."
In addition to trialling the Helmet Angel, the Omega Plastics cycling team helped to raise over £1,000 for a number of charities during the ride, with beneficiaries including mental health charity, Mind and Cancer Research UK.
To find out more about Omega Plastics, visit www.omega-plastics.co.uk.
Helmet Angel Shells Are Trialled on the Coast to Coast Route
Designed to enable cyclists to hear what's going on in their surroundings more clearly by blocking out wind noise, the Helmet Angel is a wind-deflecting shell that attaches to the strap of the cyclist's helmet. The product's unique design will also help to combat the earache that many cyclists suffer during longer rides.
A keen cyclist himself, the idea for the Helmet Angel came to David, a flooring company owner, when he was forced from his bike during a ride back in 1992 when a truck came alongside him at close range.
"I didn't even hear it coming!" David explained.
"I was cycling downhill on a stretch of country road when a truck which was trying to overtake me suddenly appeared at my shoulder. Because I hadn't heard it coming, it spooked me and caused me to move over onto the gravel at the side of the road, at which point, I lost control of my front wheel and fell onto the bank side.
"The truck itself never actually touched me, but the fact that I did not hear it approaching until I caught sight of it right alongside me caused me to fall.
"At the time the incident happened, I was working at a carpet factory where you had to wear earplugs while on site due to the noise levels. I began adapting these earplugs to try to create something that would deflect wind noise while riding my bike. It wasn't until I became a father to Hannah and Aidan, who live in Holland where helmets are not a priority, then later, my daughter Elia, that I decided to press on with the idea and create the Helmet Angel.
"My hope for the product is that it will bring more awareness to listening. Cyclists should always be aware of what is happening around them, but most especially behind them, so that they can react quickly and efficiently to road traffic, commands and warnings."